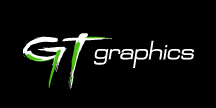 Digital Imaging
At GT Graphics we pride ourselves on our ability to offer you the highest quality signage, using our modern state of the art large format printer. With the ability to print up to 1440 dpi at a width of 1350mm up to 35m long, your signs can be printed from your artwork or our designs.
Banners
Posters
Displays
Labels, Stickers & Decals
Window Displays
Floor Graphics
Contact GT Graphics for a quote on large format printing and digital imaging.